About FR Rotary
FR Rotary is a non-profit organization with the task of contributing to a good social environment for the tenants at Rotary student housing. The landlord SGS Studentbostäder has more than 6000 rooms in Gothenburg and they support the creation of so called "förtroenderåd" (FR) in the different areas. These FR come and go, but FR Rotary is unique in that it has been running since the birth of Rotary student housing in 1967, always strong and active.
Find us
Rotary student housing is situated a stone's throw east of Chalmers around the water tower, which nowadays also is a part of the student housing, on top of Johanneberg in Göteborg. The water tower is visible all over Gothenburg and is a beloved land mark for the here living that with its help always can find their way home.
One finds the housing at the end of Richertsgatan, a cross street to Viktor Rydbergsgatan and the student housing Viktor Rydberg is its closest neighbour to the south.
Rotary's visiting address is Richertsgatan 2, but "by the water tower in Johanneberg" usually works just as well as directions.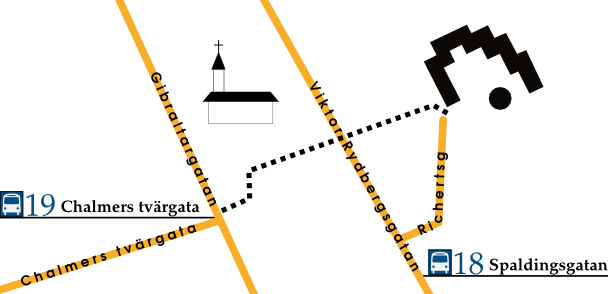 Why "Rotary"?
The name "Rotary" is derived from the more famous organization Rotary International that donated funds for building of the student housing. If one searches the area thoroughly, one might find some Rotary International emblems.
Organization
Everyone living at Rotary student housing is a part of FR Rotary and finance the activities through a modest monthly fee.
Twice a year "House meetings" are arranged where every tenant is welcome to bring up suggestions and apply for the board. This board will thereafter work to realize the decisions that were taken during the house meeting through regular board meetings within FR Rotary and with SGS.
Administrative data
See FR Rotary's constitution (Swedish only).
| | |
| --- | --- |
| Organization number | 857203-6427 |
| Plusgiro, FR Rotary | 379792-5 |
| Bankgiro, Rotary Pub | 677-5357 |
| Telephone, Rotary Pub | 031 - 20 88 20 |
FR Rotary and Rotary Pub share the organization number.